Coniston Copper Mines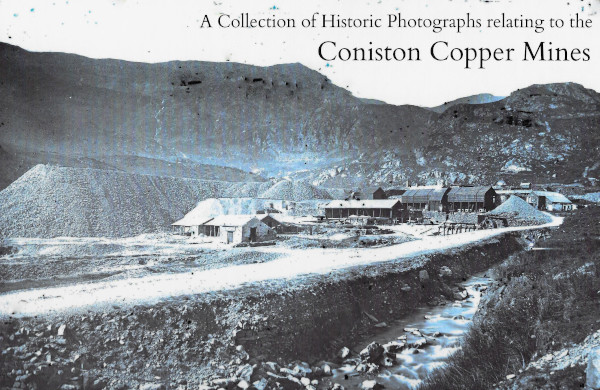 All the contemporary photographs that could be found of Coniston Coppermines Valley have been brought together in one volume, which shows the development and decline of the works over more than 150 years. There is an introduction with a brief history of the mines, and a section on dating the photographs, which are presented in chronological order with additional notes. At the end are some images from the late 20th century and a very short section on transport. A4 hardback, 100 pages.
Price £24.00 plus £3.00 p&p.
The Red Earth Revisited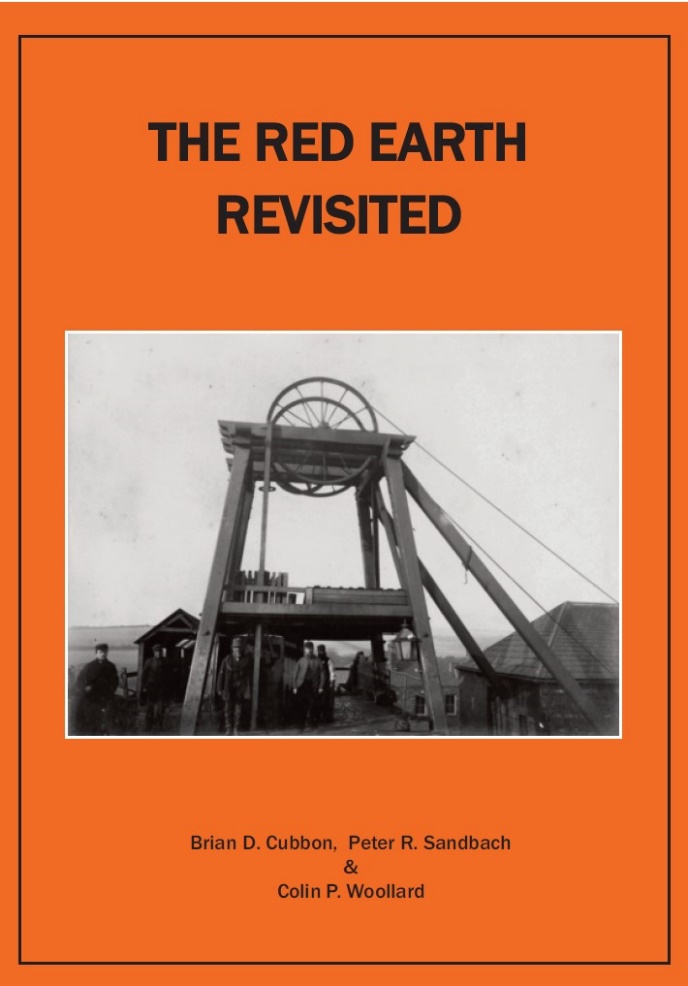 This book considers the iron mining industry of Furness. It describes the mines, owners, management, employment and production of iron ore in this area. Richly illustrated with photographs and updated maps it provides an insight into the iron industry of this bygone era. Today, there are few traces of this once thriving industry which gave employment to many of our forefathers who mined Haematite, a particularly rich form of iron ore found in this part of what was once North Lancashire.
This book complements "The Red Earth" by David Kelly; written some twenty years ago and now out of print. The three authors, who are members of the Cumbria Amenity Trust Mining History Society, have extended David's first research to provide an in-depth review of nearly three hundred pages that brings to life the ways in which iron was mined and produced.
Price £24.00 plus £3.00 p&p.
The Mine Explorer – Forty Years of Exploration, Research and Conservation
Limited edition commemorative publication covering the first 40 years of CATMHS.
123 A4 pages. Price £12.50 including postage and packing.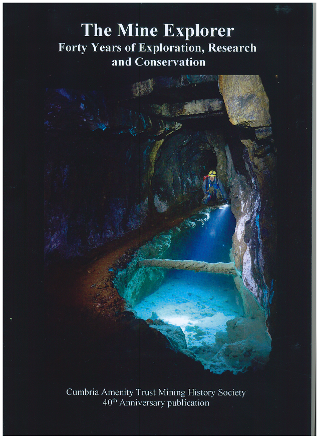 Coniston Copper Mines Rediscovered by P Fleming
A detailed description of CATMHS exploration at Coniston from 1974 to 1989, 49 A4 pages including plans, maps and diagrams. Covers everything published in Journals 1,2 and 3 but in a larger and more legible format. Available only on disc. Price £15 including postage and packing.
The Mine Explorer CATMHS Journal No.6 – 2009
Rail Inclines in Cumbria – Peter Holmes
A Few Memories of Coal Mining in Cumbria – Ron Calvin RM
Relics of Migration from Cumbria into Cardiganshire – Simon Hughes
The Knotts of Rydal and Coniston – Ian Matheson
Structural Conservation of Cumbrian Metal Mines – Colin and Andrew Woollard
The Reopening and Exploration of Kernal Level – John Brown
The Geology of the Kernal Level Workings – Dave Bridge
Paddy End Underground Survey Revisited – Mark Simpson
German Mines of Caldbeck and the Discovery of the Earliest Primitive Railway – Warren Allison
Yellow Earthworms, Arsenic and Mine-spoil – Caroline Langdon
Ulverston Harbour Records, 1862-1946 – Peter Sandbach
Harrison Ainslie & Co., Gunpowder Merchants – Peter Sandbach
Middlecleugh Mine, Nenthead – Sheila Barker
The Penrhyn Slate Quarry Underground Features – Jon Knowles
Bideford Black – Brian Cubbon
The Gold Mines of Tierra del Fuego – Dave Bridge
A Discussion and Observations of Support Methods Encountered in Old Workings – Richard Hewer
A5 210 pp many photographs & illustrations. £4.00 plus £2.80 p&p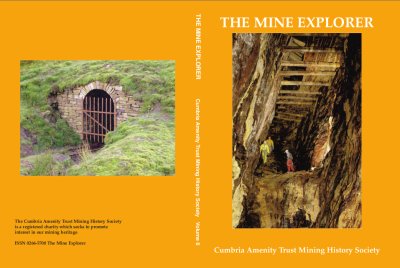 Slate From Coniston by Alastair Cameron – 2005 edition
A history of the slate industry at Coniston from the earliest times to the present day. Many maps, diagrams and photographs, from archive material. The text is presented in a readable style by a local author and includes a considerable amount of reference to the history of the village and families of Coniston. Historical, technical and gazetteer. pp 174. £5.00 plus £3.00 p&p
The Mine Explorer CATMHS Journal No.5
Contents : The German Copper Miners at Coniston, The Third Way, Saltom Colliery, Fans and Pumps at Haig Colliery 1966-1984, Lamp 184-Memories of Haig Pit, Inspection of Stoppings, Haig Pit1966-1984, The Exploration of Croesor Slate Mine, The re-opening of Lucy Tongue Level, Greenside Mine, Furness Mine and Furnace Proprietors, Newland Iron Furnace, Part 2, Letters of John Barrett, 1824-1834, Coniston Coppermines Survey, 1995-2002, Cauldale Slate Quarry, Frog Shaft, Haweswater Aqueduct and the Mardale Tunnel, Hudgillburn Mine, The re-opening of Grey Crag Level at Coniston Coppermines, The Kennecott Copper Mines, Alaska, USA.
A5 176pp many photographs & illustrations £4.00 plus £2.80 p&p
The Mine Explorer CATMHS Journal No.4
1914 Cumberland Mines Rescue Service 1986 – Ron. Calvin R.M
Working Practices at Coniston in 1858 – Ian Matheson
Newland Iron Furnace – John Helme
Aerial Ropeways – Peter Holmes
Kepple Cove Dam Disaster at Greenside Mine – October 1927 – D. J. Blundell
Greenside Mine in Liquidation May 1935 – D. J. Blundell
Leavings of the German Miners – W.G. Collingwood
The German Miners and the Question of Bismuth – Dave Bridge
German Miners and the Question of Wad – Dave Bridge
An Introduction to Braich Coch Slate Quarry at Corris – 'Moses Kellow'
The Moorfield Colliery Disaster of 1883 – Jack Nadin
Miners' Electric Lamps – Ronnie. Calvin R.M
Underground Haulage at the Astley and Tyldesley Collieries 1884 – C.H. Peace. Abridged by R. E. Hewer
Moses Kellow (1862 – 1943) – Jon Knowles
Greenside Mining Accidents – D. J. Blundell
Greenburn or Great Coniston Copper Mine, Little Langdale. A Collected History – D. J. Blundell
Birkshead Gypsum Mine, Long Marton, Appleby-in-Westmorland – Ronnie Calvin RM
Pump It Up – Anton D. Chenylle-Proctor-Thomas
The Elizabethan Lead Mine at Greenhead Gill, Grasmere – Dave Bridge and Ian Matheson
A5 119 pp many photographs &amp illustrations £4.00 plus £2.80 p&p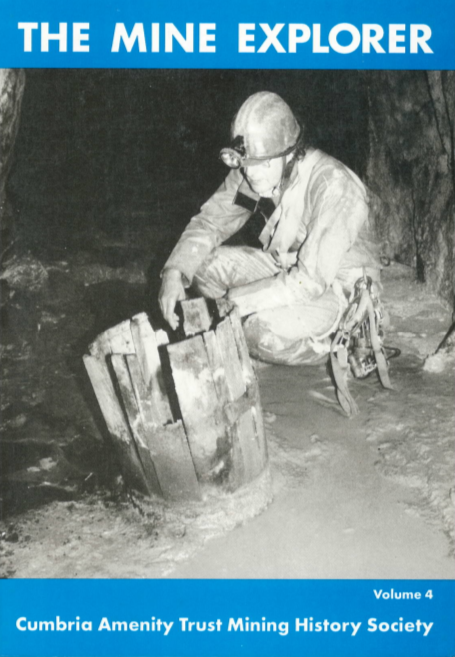 A Pictorial Tour of the Coniston Copper Mines CD
by David Bridge
In 300 pages of stunning pictures and clear text together with plans and sections this CD-ROM depicts the history of the Coniston Copper Mines from the earliest times and records the discoveries made there by mine explorers over the last 20 years.
£7.50 + £1.00 p&p
Trail leaflets
All A3 folded
A Circular Walk from Coniston around the Coppermines
by Peter Fleming
A must for all those who plan to walk in the vicinity of the Coniston Copper Mine. Describes the points of interest which are to be found on the walk, many of which the average walker would not notice. Price £1.00 + 80p p&p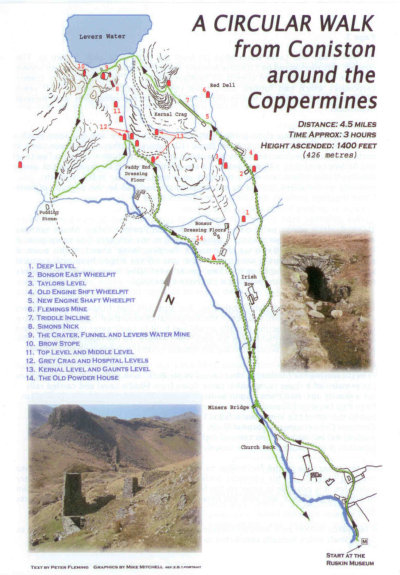 The Tilberthwaite Trail
By Alastair Cameron & Mike Mitchell
A description of the old remains to be found along the very popular low level walking route from Tilberthwaite to Little Langdale near Coniston. £1.00 plus 80p p&p
The Coniston Old Man Trail
A description of the ascent of Coniston Old Man including a history of the working of slate on the mountain. £1.00 plus 80p p&p
Tilberthwaite Gill Leaflet
By Mike Mitchell and Ian Matheson
A circular walk around Tilberthwaite taking in Penny Rigg and Tilberthwaite quarries £1.00 plus 80p p&p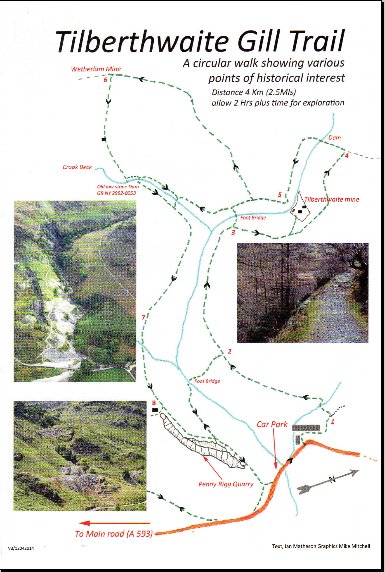 Obtaining CATMHS publications
All publications can be purchased either from the On-line shop or by e-mailing the CATMHS secretary: